On Wednesday, August 12 from 12:00 – 1:00 PICS will host a student seminar and discussion featuring Nathan Frey and Kaushik Shankar via Zoom. This event is an opportunity for students to learn and discuss their research and research methods.
Nathan Frey is a 4th year PhD Candidate in MSE in Vivek Shenoy's group. His talk is titled: "Machine Learning in the Physical Sciences." He will discuss how machine learning is used in the physical sciences and what transformative impacts we have seen or might expect to see in the future. This discussion will focus on the unique challenges (and opportunities) faced by materials and chemistry researchers applying machine learning in their work."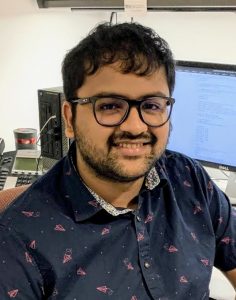 Kaushik Shankar is a rising 3rd year PhD in CBE and is co-advised by Scott Diamond and Talid Sinno. His talk is titled, "Multiscale Modeling of Platelet Aggregation."  He will be providing an overview of the computational tools he uses in his research. He will then then focus on a specific application of these methods in the construction of a multiscale model for platelet deposition and aggregation under blood flow.
Email Katie Thompson: kathom@seas.upenn.edu for the Zoom details